This April, the UC San Diego Library will celebrate National Poetry Month by providing a space for poets, both published and unpublished, to share and talk about their work.  This is our first year doing this, and we are pleased by the amount of response. We have some local poets, as well as poets from as far afield as Ontario, Canada. UC San Diego Library would like to thank this year's participants, and all poets, for keeping the craft alive.
For a live event honoring National Poetry Month please join us in the Seuss Room of Geisel Library on April 2 from 4:30 p.m. to 6:30 p.m. for a mini-marathon reading sponsored by the Department of Literature, the New Writing Series, and the UC San Diego Library.
Amanda Chiado:
Amanda Chiado is a writer and educator from Hollister, California. She received her MFA from California College of the Arts in San Francisco. Her work has appeared in Best New Poets: 50 Poems from Emerging Writers, Fence, Dusie, Cranky, and Line4.
Myron Michael:
Myron Michael is a publisher, recording artist, and writing teacher. His poetry appears in a number of journals including Nanomajority, Toad Suck Review, Harvard Review Online, Eleven Eleven, Cave Canem XII, Spillway, Days I Moved Through Ordinary Sounds (City Lights, 2009), and Fourteen Hills. His chapbook Scatter Plot won the 2010 Willow Books Integral Music Chapbook Prize, and he is co-author of Hang Man (Move Or Die, 2010). Born and raised in Grand Rapids, Michigan, he considers the San Francisco Bay Area his second home.
Rachel Winchester:
Rachel Winchester is a poet and choreographer in the second year of her Master's Program for Dance at University of Oregon in Eugene, Oregon. In this video she talks about her early writing process, as well as reading some of her work
 

Chris Vannoy:
Chris Vannoy has been a staple of the San Diego, California writing and arts scene for the last twenty years. He has performed his work at a variety of venues: from gallery readings curated by Quincy Troupe, to Lollapalooza, to your average coffeehouse open mic.
 Heidi Andrea Restrepo Rhodes:
Heidi Andrea Restrepo Rhodes is a Queer Feminist Colombian Mestiza; writer, scholar, artist, and political activist. Her performances, creative writing, and photography have been seen or are forthcoming in places such as San Francisco's SomArts, Galería de la Raza, the SICK Collective, Veils, Halos and Shackles: International Poetry on the Abuse and Oppression of Women, Brown and Proud Press, The Blue Lyra Review, The Progressive, Mobius: A Journal for Social Change, Yellow Medicine Review, From the Ground Up, and others. Her scholarship and advocacy are focused on human rights and social justice in Colombia and the United States. She currently lives in Brooklyn, New York.
 Alex Bosworth:
Alex Bosworth is a satirist, internet comedian, and spoken-word performer from San Diego, California. His collection of stories Chip, Chip, Chaw was published in 2012 by Renegade Muses Press. In this performance excerpt he has a little bit of fun with Edward Lear's The Owl and the Pussycat.
Andrew Maranzanor (A. Razor):
Andrew Maranzanor (A. Razor) is a spoken word performer from Lost Angeles, California. He is editor/publisher for Punk Hostage Press, an independent press out of Hollywood. The following poem was read in San Francisco, California at "Poems Under the Dome," a poetry performance inside San Francisco City Hall
Alexandra Naughton:
Alexandra Naughton is a poet living in Oakland, California. The following videos were created to promote her book I Will Always Be Your Whore (Love Songs for Billy Corgan) released in 2013 from Punk Hostage Press. She describes the project as "More than fan fiction, this is the creation of a new pop culture."
The following two poet entries come to us from Wisconsin. Hippie Rick and Margaret Rozga took part in a demonstration in the Wisconsin capitol building where many of the protestors were arrested for participating in an act of civil disobedience involving ongoing singing, called The Solidarity Sing Along. Both poems were included in the anthology chapbook called Turn Up the Volume: Poems about the States of Wisconsin published in 2013. The proceeds were used for a legal defense fund for Solidarity Sing Along.
Hippie Rick performing the poem Sing On
Margaret Rozga performing the poem The State of Wisconsin
 Marissa Bell Toffoli:
Marissa Bell Toffoli is an editor and creative writing teacher from Berkeley, California. She publishes interviews with writers online at Words With Writers. Marissa holds an MFA in Writing from California College of the Arts and is the poetry editor for Exterminating Angel Press: The Magazine. Her e-chapbook, Under the Jacaranda, is available from TheWriteDeal.
JC Olsthoorn:
JC Olsthoorn is a poet and painter born and raised outside of Montreal, Quebec and now lives and works in Ottawa, Ontario. Writing poetry for close to forty years, John's poems have been published in literary magazines and in a chapbook, 'as hush as us' (1980).
 

D. Russel Micnhimer: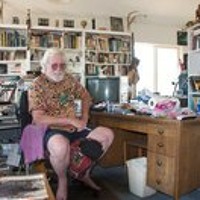 Our last poet is D. Russel Micnhimer reading his work THE BEAUTY OF OREGON: A HEROIC CROWN OF SONNETS. A heroic crown is a poetic form which is concerned with a single theme. Each of the sonnets explores one aspect of the theme, and is linked to the preceding and succeeding sonnets by repeating the final line of the preceding sonnet as its first line. The first line of the first sonnet is repeated as the final line of the final sonnet, thereby bringing the sequence to a close.