Library Student Advisory Council - (LSAC)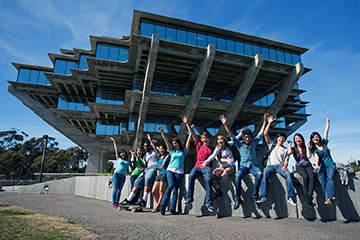 The Library Student Advisory Council (LSAC) is a group of UC San Diego students and Library staff working together to provide the campus' diverse student community with the best possible library spaces, services, and collections.
Students: Share your thoughts with the Council by emailing
lsac@ucsd.edu
.
How to Apply
The application period has closed for 2022-2023 LSAC membership. Watch here in the Spring and Summer of 2023 for information on how to apply to join the Council for the 2023-2024 academic year. Send questions to lsac@ucsd.edu at any time.
Who is on the Council?
Student members from across campus appointed by the Library
Student members appointed by Associated Students and by each of the College Councils
Library staff members, including the Associate University Librarian for Learning & User Experience (AUL/LUE) who leads the group
Appointments to LSAC are made early in Fall Quarter and last the entire academic year, from October through May.
---
What would I gain from the experience?
Serving on the Council offers an opportunity to:

Share with Library staff concerns of highest priority to students
Provide connections for future references
Meet new friends and student peers
Help create the kind of UC San Diego community students want
Influence the shape of Library services and spaces important to you and your peers
---
What is expected of members?
Members are expected to:

Actively participate in meetings in October, November, January, February, April, and May (meetings will be held in person, but LSAC participation may also include some supplemental virtual elements)
Convey student needs, concerns, and priorities to the Library, including advice and feedback on library policies, services, and spaces
Share ideas and input on the design and implementation of new library services
Share insights into student study, research, and Library use habits
Communicate information about Library services and resources to the student community
---
Send any questions to lsac@ucsd.edu and/or share the application materials with a friend or fellow student who might be interested!
LSAC Meeting Notes
View LSAC meeting notes below to learn more about what the Council is doing.