Collection Endowments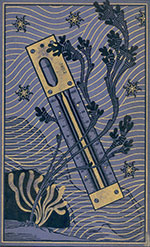 Cover for Thalassa; an essay on the depth, temperature, and currents of the ocean, by John James Wild. London, M. Ward & Co., 1877.
The UC San Diego Library is recognized nationally for distinctive collections that are consulted by scholars and researchers from around the world. Our facilities house over 7 million books, journals, pamphlets, maps, microfilms, audio materials, slides and videos, plus 30 million manuscript and archival items.
Named library endowments in support of scholarly research collections may be established with a minimum gift or pledge of $10,000. Endowments may be funded with a single gift or built up gradually over several years. Whatever your area of interest and philanthropic ability, we will happily work with you to establish a named endowment that will not only be invaluable to many future generations of scholars, but personally rewarding to you as well. View the list of UC San Diego Library collection endowments.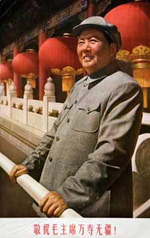 A long, long life to Chairman Mao (published during Chinese Cultural Revolution 1966-1976).
You can establish a named collection endowment to support existing core collections in the subject of your choice, new collections such as research material for the Rady School of Management, and collections of distinction, including UC San Diego's Archive for New Poetry and the Melanesian Archive, among others. We invite you to review our current collection priorities.
Donors who establish a named collection endowment are invited to help design a personalized bookplate that will mark all materials—either in hard copy or in digital format—that are purchased through their fund. View a sampling of some of these specially designed bookplates.
We invite you to support the UC San Diego Library by using our secure online giving page or contacting us at (858) 534-3901 or jgbrown@ucsd.edu.