Giving Opportunities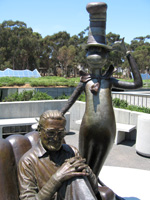 UC San Diego has been widely acknowledged for its local impact, national influence, and global reach. In today's challenging economic climate, your support is essential in maintaining the university's high level of academic excellence. The Library is  the intellectual support system for the complex information needs of our many world-class research and medical centers. The UC San Diego Library strengthens the entire university by offering the most up-to-date materials, stellar collections, and digital resources from around the world.
While there are many giving opportunities available to support our collections, your gift of any amount will help us to maintain a high level of innovation and excellence which students and teachers, scientists and artists, and people from across the region have come to appreciate, and expect. We invite you to read more about the following gift opportunities:
We invite you to support the UC San Diego Library by giving online or contacting us at (858) 534-3901 or jgbrown@ucsd.edu.