Introduction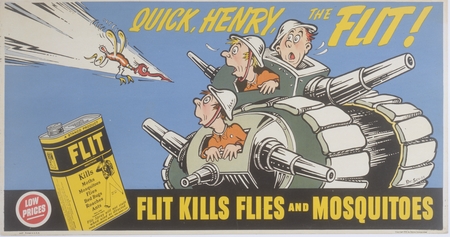 Before Theodor Seuss Geisel found fame as a children's book author, the primary outlet for his creative efforts was magazines. His first steady job after he left Oxford was as a cartoonist for Judge, a New York City publication. In 1927 one of these cartoons opened the way to a more profitable career, as well as greater public exposure, as an advertising illustrator. This fortuitous cartoon depicts a medieval knight in his bed, facing a dragon who had invaded his room, and lamenting, "Darn it all, another dragon. And just after I'd sprayed the whole castle with Flit" (a well-known brand of bug spray).
According to an anecdote in Judith and Neil Morgan's book Dr. Seuss and Mr. Geisel (Random House, 1995), the wife of the ad executive who handled the Standard Oil company's account saw the cartoon. At her urging, her husband hired the artist, thereby inaugurating a 17-year campaign of ads whose recurring plea, "Quick, Henry, the Flit!," became a common catchphrase. These ads, along with those for several other companies, supported the Geisels throughout the Great Depression and the nascent period of his writing career.
The Dr. Seuss Collection, housed at the Mandeville Special Collections Library at the University of California, San Diego, contains many examples of Dr. Seuss's advertising artwork. The library has scanned a selection of these advertisements for greater access. Besides promoting the Standard Oil companies Flit and Esso, Dr. Seuss's creations have hawked such diverse goods as ball bearings, radio promotional spots, beer, and sugar.
Some content in this collection includes images or language that may be discriminatory or offensive. The content is intended to serve as valuable evidence for analyzing and challenging the legacies of history both as it occurred and how it unfolds in the modern-day, rather than to perpetuate or endorse any discriminatory or offensive attitudes or acts. Please refer to the UC San Diego Library's Historical Context and Cultural Sensitivity Statement for more information.