About
Chronopolis is a geographically distributed preservation network. All data in the network are replicated among three geographically dispersed partner sites. This geographic distribution ensures that no single catastrophic event will affect the content.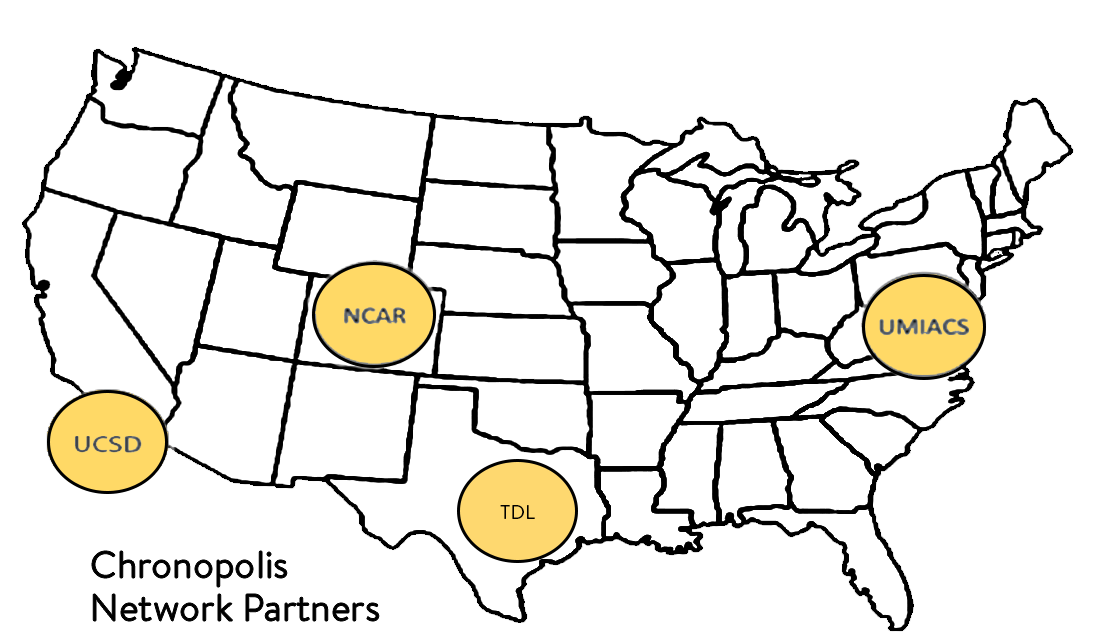 Originally funded by the Library of Congress, the Chronopolis digital preservation network has the capacity to preserve hundreds of terabytes of digital data—data of any type or size, with minimal requirements on the data provider. Chronopolis comprises several partner organizations that provide a wide range of services. The partners include:
The project leverages high-speed networks, mass-scale storage capabilities, and the expertise of the partners in order to provide a geographically distributed, heterogeneous, and highly redundant archive system.
Features of the project include:
Three geographically distributed copies of the data
Curatorial audit reporting
Development of best practices for data packaging and sharing
Services
Chronopolis's preservation infrastructure, tool and software development, and management is provided by multiple organizations, creating both a robust preservation environment and a sustainable organizational model not dependant on any one group.
The Chronopolis Preservation Plan offers the following services:
Provide long-term preservation of a wide variety of digital content;
Operate a robust, grid-based storage environment for digital preservation;
Maintain appropriate preservation metadata relevant to all aspects of the object lifecycle;
Develop tools and services for digital preservation;
Devote resources to investigating and planning for new technologies and services;
Utilize and create community-based standards and systems.
Format obsolescence is not an immediate concern of the Chronopolis system. Instead, this is regarded as the responsibility of the data providers. The single, overriding commitment of the Chronopolis system is to preserve objects in such a way that they can be transmitted back to the original data providers in the exact form in which they were submitted.
Chronopolis Teams up with DuraSpace 
The TRAC-certified Chronopolis digital preservation network at the UC San Diego Library is collaborating with DuraSpace to offer the DuraCloud Enterprise Chronopolis subscription plan, which provides DuraCloud customers with a wide range of benefits. Read more here.  
DuraCloud Vault website launched!
Learn more about the new DuraCloud Vault service offered by Chronopolis, DuraCloud, and DPN.
DPN explained
What is DPN? Read more... 
Chronopolis joins DPN
Chronopolis is a founding node in DPN.
Read More...
Contact