Southworth Spanish Civil War Collection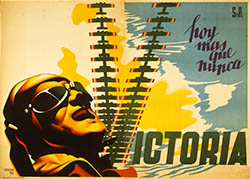 Spain's Second Republic (1931-1936), the Spanish Civil War (1936-1939) and the post-War years of the 1940s form the foci of this collection named for Herbert Rutledge Southworth, who began collecting these materials systematically during the War. Southworth was an American journalist closely associated with the Republican Government both in Spain and in exile. He contributed numerous anti-Franco articles to the Washington Post during the War, and after the War he served as secretary to Fernando de los Rios, the Spanish Republic's ambassador to the United States. Southworth's collecting interests continued while he served as a radio correspondent in Tangiers during the 1940s and 1950s. In addition to histories, memoirs and other books relating to Spain during the 1930s and 1940s, Southworth also assembled a substantial number of propaganda pamphlets, short-lived journals and newspapers of extremely limited circulation that appeared during the War years.
Since its acquisition by the Library in 1966 under the aegis of Gabriel Jackson, the Southworth Collection has increased in size to over 13,000 books, pamphlets, periodicals, newspapers, posters, and manuscripts. Publications by Republicans, Falangists, Catholics, anarchists, communists, socialists, agrarian reformers, and regional political parties are all represented, as are those by Spanish exiles and partisans outside Spain. The collection holds all works by such prominent writers as Diego Martinez, Juan Negrin, Indalecio Prieto, Jose Antonio Primo de Rivera, and Fernando de los Rios. Also included are commentaries by non-Spanish writers of the period as diverse as Ernest Hemingway and Joseph Goebbels.
Much of this material is not available anywhere else in the United States, and some portions of the collection are unique. Of special interest are publications that were printed in small editions and were subject to destruction through censorship or war, including 3,500 political pamphlets and copies of the newspaper published by the Falangists inside the besieged fortress of Alcazar. The pamphlets are of particular significance in reflecting the divisiveness and passion of the opposing factions. Many of these items were printed in small editions, either in Spain or Latin America, while others, printed elsewhere in Europe and the United States, reveal the world-wide sympathies that the conflict evoked. The bulk of the pamphlet collection has been microfilmed.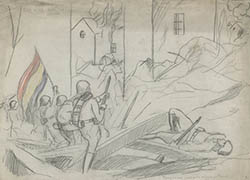 Other items of special interest in the collection are complete runs of Occident and Spain, Franco's propaganda newspapers published in Paris, New York and London; a scarce regimental edition of Rafael Alberti's anti-clerical poems; over 600 drawings made by Spanish school children ca. 1938; 99 photographs taken by various news agencies during the war; and eighty-four graphic propaganda posters published during the War.
Bibliographic access to these materials is provided through UC Library Search. Searching by special access points will produce search results for particular clusters of materials:
Spanish Civil War Posters: subject = War posters, Spanish
Political pamphlets on microfilm: call. no. = XF 1898
[For a published bibliography of the microfilm copies of the Southworth Spanish Civil War pamphlet collection, see The Spanish Civil War Collection: A Guide to the Microfilm Collection (Woodbridge, Connecticut: Research Publications, [1989]).]